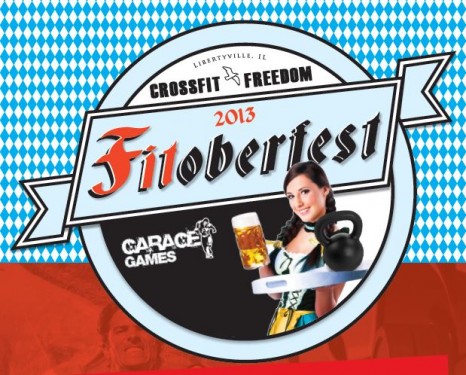 Event Date: September 28th-29th
Start-Time: 8:00AM
Detailed Schedule: Will be posted at CFI
Registration deadline to compete: 9/17/2013
Website: http://www.thegaragegames.com/events/crossfit-freedom-fitober-fest-2013/
Event Details: CrossFit Freedoms Fitober Fest will be a 2-day competition on September 28th and 29th at the biggest box in the Midwest! Be ready for anything, as we throw down inside and outside among an Oktoberfest themed celebration of food, drinks, and music!
Fitober Fest will be a true test of strength, endurance, stamina, and all of the general physical skills of true fitness, be prepared for anything! The competitive divisions will include men's and women's individual, both RX and scaled, a team competition consisting of 1 man and 1 woman and a masters division! Over the age of 40 will be considered Masters. Last year, Fitober Fest had over 400 competitors, 72 heats and 40 teams. This competition fills up fast! Don't be left out of the fun – register today!
 This event will have a host of great sponsors and prize packages, not to mention cash prizes for winners of all divisions! And just like last year you can expect a box full of super sponsors and plenty of vendors. Come Drink, Come eat, Compete! Be part of what's becoming a classic annual fall event at CrossFit Freedom. Register today!
Workout of the Day
ME Lower
then:)
Three sets for max reps:
135/95 lbs Ground to Overhead x 60 seconds
Rest 2 minutes